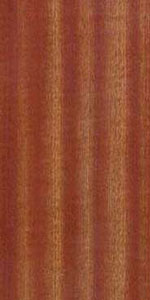 Sapele Lumber (Sapele Mahogany)
As a direct importer of top-grade African Sapele, Alan McIlvain Company stocks one of the largest Sapele lumber inventories in North America. Also known as Sapele Mahogany, this medium-to-hard wood is well suited to both interior and exterior use.
Our extensive inventory and automated sorting technology enables us to offer sorts and grades that no other lumber suppliers can. Unlike typical suppliers, we sort random width Sapele lumber by quarter sawn and flat sawn, as well as width and length. This allows you to reduce waste by buying specifically what's needed for your job.
Grade: FAS, mostly clear
Available as: Quartered, Flat Sawn or Mixed
Random widths
4 – 6″
6 – 7″
Lengths: 7 – 18'
Machining: R1E, R2E, S1S, S2S, S4S. Also available rough.
Species: Sapele
Common Names/Species: Aboudikroe, Penkwa, Assi, Sapele, Assie Sapelli,  Lifari, Sapeli
Scientific Name: Entandrophragma Cylindricum
Description: Texture rather fine; grain interlocked; sometimes wavy. Lustrous. Works fairly well. Excellent substitute for Genuine Mahogany. Sapele is a great choice for high end exterior millwork such as doors, windows, porch rail, balusters, soffit material, cornices, shiplap and other types of trim. For interiors it is used as mahogany substitute for fine cabinetry, furniture and mouldings.
Common uses: Interior millwork, exterior millwork, furniture, cabinetry, windows and doors
Sources: Africa
lbs/BF (dry): 3.5
Hardness: Medium to hard