Alan McIlvain Company offers a full line of value added millwork services.
Experienced operators and top of the line machinery offer customers a cost effective way to focus on what they do best, achieve shorter lead times, and streamline their production processes.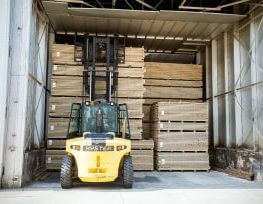 Kiln Drying
Kiln Drying
Alan McIlvain Company, with several decades of experience, has developed the ability to dry dozens of species both domestic and foreign. Currently using state of the art kilns, we are drying lumber of all thicknesses from 4/4 thru 16/4 to the appropriate moisture content suitable for the finest woodworking. Our customers can be confident that the lumber they purchase from Alan McIlvain Company has been dried to the most precise standards of our industry.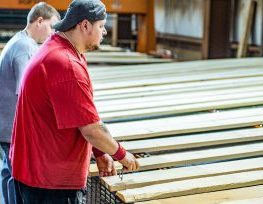 Custom Grading & Sorting
Custom Grading & Sorting
All lumber received at Alan McIlvain Company goes though three quality control.
Lumber is first graded when received green.
After the air / kiln drying process it is graded and sorted into width, length and grade groupings. Using a 30 bin automated Morris sorter, a Softac laser scanner to measure for width, length and thickness and NHLA certified graders we are able to quickly and accurately pick a multitude of custom sorts. Every piece of lumber is then bar-coded and the data uploaded to our Lumber Track inventory system. This allows us to see a detailed tally and history on every bundle in our inventory.
Lumber is then visually inspected once again and check against the customer's specifications before shipping out on our trucks.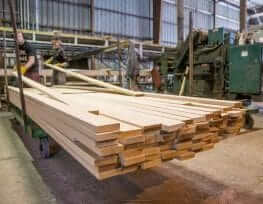 Surfacing
Surfacing
Using our Oliver Straight-O-Planer essentially combines facing and surfacing into one operation. The Straight-O-Plane is able to remove minimal bend and twist in one pass while offering a high quality surface and precise thickness.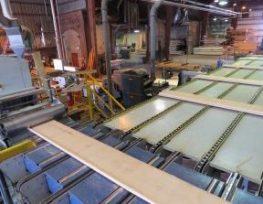 Straight Line Rip One Edge
Straight Line Rip One Edge
Straight line ripping is a simple, cost effective way to achieve one straight edge on lumber to work off of. Unlike lumber ripped 2 edges at a fixed width, rip 1 edge lumber allows you to cut for a greater yield in cases where a fixed size is unnecessary.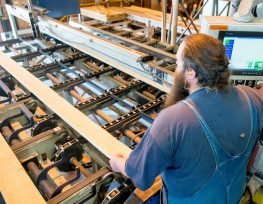 Rip 2 Edges
Rip 2 Edges
Purchasing rip 2 edge lumber is ideal for fixed size millwork applications such as mouldings and casework. Rip 2 edge lumber can be fed directly into a moulder, saving you an extra step and limiting the potential for excessive waste. Rip 2 edge lumber is typically delivered within two or three days on regular trucking routes.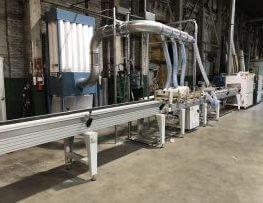 Priming and Buffing
Priming and Buffing
Starting with high quality mouldings, our new Cefla vacuum coater and IR oven high-speed priming line allow us to provide the primed mouldings for your every project using latex based primer. This provides you with a primed and buffed moulding surface that's ready to be painted.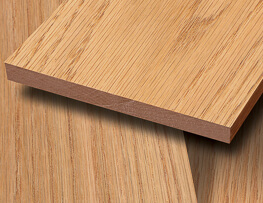 S4S
S4S
Surface four sides produces the highest quality finish for dimensional stock. Ripped and surfaced lumber is fed through one of our high speed moulders to produce a finished product that requires little or no sanding and adheres to very tight tolerances.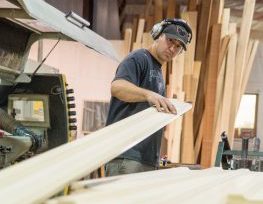 Custom Mouldings
Custom Mouldings
With over 15,000 knives in stock and the ability to custom manufacture virtually any profile Alan McIlvain is your one stop shop for high end solid wood mouldings. Five high-speed Weinig moulders run by some of the most experienced operators in the industry produce top quality mouldings in exceptionally short turnaround time. Phone, Fax, or Email one of our experienced sales representatives to see what Alan McIlvain can do for you.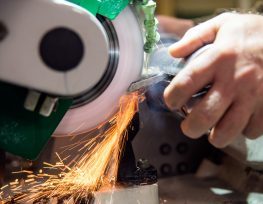 Custom Knife Making
Custom Knife Making
The most important factor in producing a high quality moulding is manufacturing high quality, precisely ground knives. Using a CAD automated CNC template maker we can create knives to tolerances never before possible. Professional knife makers with years of experience have the knowledge and dedication to carefully grind every knife to the highest possible standard.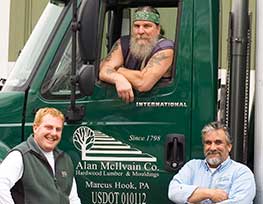 Delivery
Delivery
Alan McIlvain Company operates fleet of tarp side tractor trailers and straight trucks. With regular deliveries along the east coast from New England to Southern Virginia and West to Buffalo and Ohio we offer fast, on-time deliveries at no charge for qualifying orders. Common carriers can also be arranged for areas outside of our shipping routes.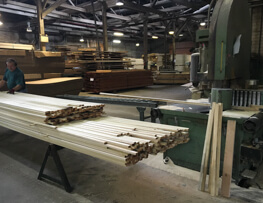 Resaw
Resaw
Resawing lumber is the process of sawing directly down the center of the board along the length to produce two pieces nearly half the thickness of the original. Having us resaw your lumber or moulding blanks is an ideal way to greatly improve your yield when producing finished thicknesses of less than 5/8″.