With over 50,000 knives in stock and the ability to custom manufacture virtually any profile Alan McIlvain is your one stop shop for high end solid hardwood mouldings. Five high-speed Weinig moulders run by some of the most experienced operators in the industry produce top quality mouldings in short turnaround time.
In addition to milling moulding we offer the value added service of priming and buffing. Our Cefla vacuum coater and infrared curing oven apply a thin coat of primer that gets instantly cured to seal the wood and eliminate the costly and time consuming process of priming and sanding in your shop or at job site.
Phone, Fax, or Email one of our experienced sales representatives to see what Alan McIlvain can do for you.
Browse our new catalog of tradition solid wood moulding profiles.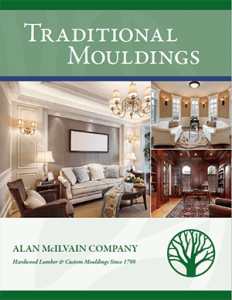 Custom CNC Knife Grinding
Primed and Buffed Mouldings