Rift White Oak Lumber
Alan McIlvain Company is a major supplier of FAS Rift White Oak, also called Rift Sawn White Oak. Unlike typical hardwood suppliers who only offer random width lumber, we custom sort our Rift White Oak every inch. This allows you to know exactly what your yield will be and how much to order.
We also stock a large inventory of top-grade Flat Sawn White Oak, Quartered White Oak and Rustic White Oak.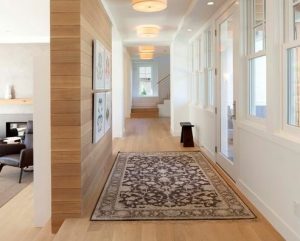 Rift White Oak floor and wall
Grade: FAS
Available as: Rift Sawn
Thicknesses:
Widths: Limited availability in wider widths. Contact us for current inventory.
Random widths
4 – 6″
5 – 6″
6 – 7″
7 – 8″
8 – 9″
9 – 10″
10 – 11″
Lengths: 6 – 16'
Machining: R1E, R2E, S1S, S2S, S4S. Also available rough.
Species: Rift White Oak
Common Names/Species: American White Oak
Scientific Name: Quercus Alba
Description: Rift Sawn White Oak is similar to Quarter Sawn but cut at a slight angle to the radius of the log creating a tight straight grain with little or no flecking and a very uniform look.
Common Uses: Architectural millwork, furniture, cabinets, flooring
Sources: Eastern United States
lbs/BF (dry): 3.83
Hardness: Hard